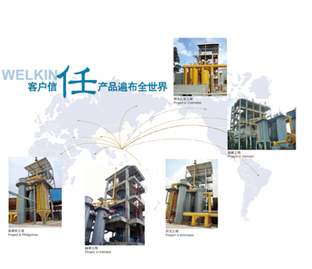 Welkin Group which consists of Foshan Welkin Machinery Co.,Ltd and Foshan Energy Equipment Development Co.,Ltd, concentrates lots of technique pioneers who bring in and apply the advanced European two-stage gas producer. With the development of research, we have continuously improved and updated our products, and gradually formed a series of high quality products which are suitable for domestic and overseas production conditions. The excellent product quality and features which are energy-saving, environment-protecting, highly-automatic, safe and easily-operating have won high acknowledgement from our customers.
We have always put the specific need of each customer in the first place, depending on the abundant practical experience to put forth new ideas with strong technique power continuously, which have greatly improved the product competitive ability and guaranteed our products to be in the front in the same field. Our trade markets include Indonesia, Philippines, Vietnam,Pakistan, Malaysian and Colombia so on. Our consistent principle is to have our customers use the fewest pains to get the most gains and our target is to make the product become a famous brand in the world.
Welkin Group is the biggest supplier who offers different kinds of accessories of gas producer in the south of China. The accessories supplied are of various types, reliable quality and reasonable price. We also set foot in other fields, such as electricity generating with flammable gas, energy saving, heat transforming, utilization of coal powder and recycle of waste heat. Under the present sharp competition, we shall try our best to develop more products of high quality for our customers.
The staff of our Group will surely create a bright future with all the friends at home and abroad hand in hand.